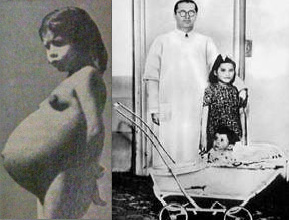 Well slap me with some shock!
I was on
Twitter
and noticed a Catholic posted that the
youngest mother in world was only 5 years old.
How could I believe that? I thought surely that this nice person must have read a
snopes story
or something.
Here lies the shock!
It's true!!
Apparently there was a little girl-the said 5 year old-from Peru. She in fact gave birth at the age of 5 years, 7 months...to a healthy baby boy.
Her family suspected she was suffering from a tumor in the stomach, and when they finally made it to the larger city for medical help, they learned she was already 7 months pregnant!
WOW!!!
According to
the article
, this girl had been experiencing menstrual cycles from 8 months of age due to a hormonal abnormality. 8 months!! Pre-modern medicine days. Wow.
I found this to be too interesting to not post. There I sat in disbelief, and here you might be doing the same. Crazy, isn't it?

Read the story here.