Today I participated in the
Making Strides Against Breast Cancer
Walk with some ladies my husband works with.
I've done charity walks before, but never for breast cancer, and not since high school.
It was such an emotional experience for me, I'm sure in part more now that I am older and have matured at least a tad since high school.
Some people are so clever with their signs/slogans.
My favorite was "Don't Slack! Check your rack!".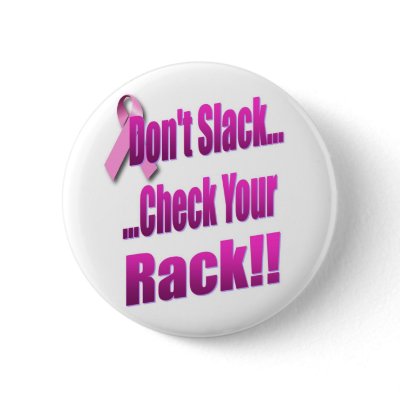 Another good one was "Save em all, big or small"
Most clever was a tee with a lemon on it, reading "Squeeeeeze", then a mammogram reminder on the back.
Hitting me emotionally was the people walking with signs on their backs, "walking in memory of...".
Wow. Totally teared up there.
Some were reassuring, reading "my so & so survived cancer", or "I am a survivor".
Serious lump in my throat.
I'm sure we all know someone who has been hit by some form of cancer. My paternal grandfather died from lung cancer. Two local friends I know have each had different types of cancer, and thankfully they have recovered.
As a woman breast cancer awareness is certainly something I should pay more attention to.
Yes, I do things to limit my risk. But you just never know...
Isn't that scary?
You never know when you or someone you care about, regardless of age, could be struck with such a difficult disease.
I was so happy to be out there today walking in support of both the victims and survivors. I hope it is true that each year, there will be fewer victims, and more survivors.
Even better still, fewer people struck with cancer.
So today I started off walking for women everywhere. Scratch that-all of us. Even men can get breast cancer.
I walked for them, and I hope to do it again next year.
Check out the
American Cancer Society site
for information on breast cancer.