Because tomorrow is
St. Patrick's Day
!
A tradition we've started around here goes like this:
The night before St. Patrick's Day (that's tonight, folks!), enjoy an Irish bedtime story with the kids.
Fill their imaginations with the world of the Irish, including leprechauns that come into our friendly home and hide CHOCOLATE GOLD COINS in the living room!
Now, this leprechaun comes only once the kids are asleep. He can't be seen! He aims to bring good luck, and that starts the day off by finding golden chocolate coins in the living room.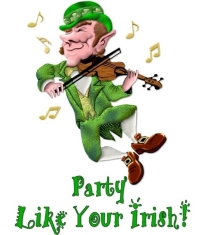 It's fun. Aidan gets really into it, and
we
the leprechaun enjoys hiding the coins.
Find enough coins, maybe you'll find a pot of gold! If not, there is hope of the rainbow. ;)