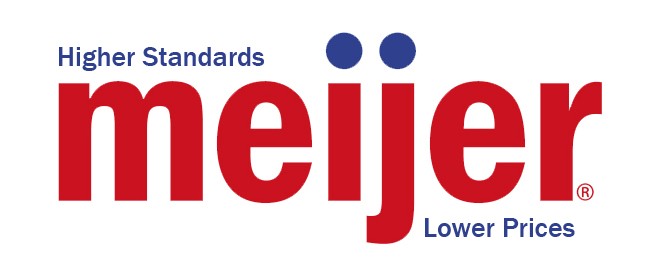 Today= Pay Day= Grocery Shopping
I'm mad at myself. I got home to find 3 coupons I could have used that I missed. That's what I get for rushing! Darn it.
Aside from that, I did pretty well still at
Meijer.
62 items bought, $95.09 spent.
Good deals:
-Comet powder bathroom cleaner $0.88, 0.35 cents coupon, doubled, totaling $0.18 for Comet cleaner.
-Welch's brand grape jelly, on sale for $1.99, $0.75 cpn, totaling $1.24. That's only 5 cents more than the Value brand, so I went for it. I hardly ever buy the good brand, but it's worth it, in my opinion. Less sugar, better flavor, texture, etc. And for 5 cents more.
-Quaker instant oatmeal, on sale for $1.88, $1 cpn, totaling $0.88. Brand name oatmeal, less than a buck.
-Quilted Northern toilet paper-12 double rolls, on sale $5.49, $1 off cpn. $4.49
-Same for Brawny 8 pack paper towels. $5.49-$1 cpn, $4.49
~I had an in-store coupon for $1 off paper goods $7 or more, so I used that for these 2 items. So it really breaks down to $3.99 for the toilet paper & paper towels each.
-Freebies :)
~Ritz crackers, after buying 3 packs of Kraft shredded cheese (on sale for $2 each)
~Danimals kids' yogurt! GOOD SCORE! On sale for $2 each. I had both a Meijer $1 off coupon for the item, plus a mfr coupon for $1 off, so I got it for free.
-Not a coupon deal, but Meijer brand pasta is on sale for $0.69/box. Stock up time!
Meijer has Kraft mac & cheese for $0.60/box on sale.
-Meijer also has a deal on Kellogg's cereal. Buy 5 boxes, get $5 off instantly at check-out.
I bought cereal for $2.69/box, totaling $13.45. Subtract the instant $5, and that's $8.45 for 5 boxes.
That comes to $1.69 a box for BRAND NAME cereal.
**This is what I mean by store brand or Aldi's not always being cheaper. Deals like this make it less costly, depending on the sales and your coupons.**
UPDATE
:
Redplum
has a Kellogg's coupon for $1.50 off 2. (I really need a working printer!)
I regret that I had no additional cereal coupons. I'm sure some of you out there would have. I can't print my own right now, and my cereal coupons were only for General Mills & Post.
I feel I could have done better, but my receipts cites $11.40 in coupons, so I'll take it & get over it.
I was feeling rushed and think that messed me up. Oh well. It's more the principal of it all than the amount. The coupons I forgot would saved me almost $2 more. They don't expire soon, though, so they will still get used.
I usually go through u-scan so I can watch each item as it scans, ensuring it's correctly priced.
Today I was hurrying, so I went through w/ an actual cashier. I learned I prefer to go through u-scan & take my time more.
We do have a freezer full of meat right now (pork, chicken, ground beef, a roast, and some steak).
We have plenty of cereal plus some school snacks for Aidan.
We have frozen veggies, plenty of pasta, barley & rice.
I'll need to replenish fresh milk and fruit, but for the most part, today's total is for 2 weeks. Not bad. (meat previously bought on sale, not reflected in today's total).
What great grocery deals have you gotten lately?